OUR HISTORY
The LaCaille Group of Companies had its origins in the 1980's, more than 35 years ago. The company name is taken from the prestigious LaCaille on the Bow restaurant that operated on the Bow River in the heart of downtown from 1982 until 2007. In the 1990's, Peter Livaditis (principal of LaCaille) began to develop real estate, ultimately resulting in the sale of the restaurant operations and a full-time focus on real estate.
In that time, the LaCaille name has become known for innovative, quality real estate projects. LaCaille projects always reflect the high quality that is the trademark of its founder's European roots, while showcasing creative solutions to design constraints and limitations. Starting with the creation of the Chateau LaCaille project in the mid-1990's, the company has focused on mixed-use, high rise residential projects in the downtown Calgary market. These projects, with their combination of different uses, and the limitations of constrained sites, have provided a platform for the demonstration of LaCaille's considerable development expertise.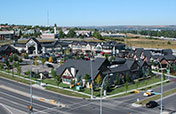 LaCaille has assembled an outstanding network of development professionals that enable the company to consistently deliver successful projects. This project success has enabled LaCaille to enjoy exceptional banking relationships during the past 25 years, during which time it has also built outstanding working relationships with the City of Calgary's planning department, business unit, and Calgary City Council.
DEVELOPMENT HISTORY
1990Signature Parke Plaza
Neighbourhood shopping centre (32,500 sq ft)
Mixed use redevelopment potential, with close proximity to LRT station since 2012
1992 - 1999Chateau LaCaille
18 storey, 54 unit luxury high-rise
Development included mix of restaurants, retail/commercial, and residential units, and integrated an existing 2-level underground parkade and 2-storey restaurant building into the completed design
2000West Market Square
Community shopping centre (62,000 sq ft) adjacent to LRT station constructed in 2012
Project lands leased from City of Calgary for 35 year term, plus 15 years in extension options, with option to purchase
2002LaCaille Parkade
Free-standing public underground parkade (2 levels), with enhanced public park space above-ground, on land leased from the City of Calgary
2003LaCaille Parke Place
18 storey, 54 unit luxury high-rise
Development site across the street from initial Chateau LaCaille project involved land acquisition from City of Calgary's housing corporation for strip of land required for underground parkade configuration
2005Five West – West Tower
27 storey, 160 unit high-rise
Project included a split parkade (below and above grade), with main floor commercial retail, office space (with dedicated lobby/elevator), and residential condominium units
2007Five West – East Tower
28 storey, 180 unit high-rise
Project included a split parkade (below grade and above grade), together with main floor commercial retail, and residential condominium units, and was constructed with a matching 5-storey "podium" to completed West Tower
2004Oxford/Cambridge – 16th Avenue Development Lands
Assembly of inner city development site, and subsequent project planning/permitting for two, 10-storey mixed-use residential buildings with main floor retail/commercial
Lands are held for future development
2004Kings on Fourth – 4th Avenue Development Lands
Downtown development site acquired for luxury, mixed-use development
Project planning and development permits approved for 50-storey project with retail/commercial space, luxury boutique hotel (120 rooms), office space (200,000 sq. ft.), and luxury residential condominiums
Lands are held for future development
2010Louise Station
Complex mixed-use project consisting of a 4-level underground parkade, affordable housing tower constructed for Calgary Housing (City of Calgary agency), two-storey, ground level fire station, main floor retail/commercial, and 18 storey residential condominium project
2018LaCaille First Avenue Development Site
Development site acquired adjacent to LaCaille Parke Place as part of the Louise Station development agreement with the City of Calgary
Preliminary planning for a revised land use permitting development of a 21 storey residential condominium building prior to selling the lands in 2018
2017Vogue
36 storey, 232 unit, mixed-use high-rise
Project included a split parkade (below grade and above grade), together with main floor commercial retail, 4 levels of office space accessed from a separate lobby and elevators, and residential condominium units
4 office levels have not been completed, and a revised development permit has been secured for development of these floors into 63 unique "loft-style" residential units suitable for an independent rental operation
2017Sky Pointe Lands
160 acre land acquisition for development (80 acres on each side of Country Hills Boulevard NE)
Site is host to a planned LRT station, and offers opportunity for high density "transit-oriented development" (TOD)
Development of initial 80 acres is complete, with individual project builders in process of constructing multi-family projects, and LaCaille constructing Sky Pointe Landing Shopping Centre
Land Use approval for remaining 80 acres was secured at the end of 2019, and work on engineering and subdivision drawings is progressing
2019Sky Pointe Landing Shopping Centre
16 acre, 240,000 square foot community shopping centre with future LRT station
Initial phase of 82,000 square feet is 70% leased, with a number of national tenants and banks, with initial tenants opening for business in late 2019