OUR HISTORY
In 1982 La Caille On The Bow first opened its doors to Calgary and defined itself as one of the cities most respected and renowned fine dining establishments. Located on the banks of the Bow River in Eau Claire, the panoramic views of the river and park set the stage for many memorable moments. La Caille Restaurant was host to numerous special events and occasions over its 23-year life including a private VIP cocktail party for US President William Jefferson Clinton and the victory party of the 1989 Stanley Cup Champion Calgary Flames.
In 1999, LaCaille completed its first tower, the 18-storey landmark, which wraps around the historic LaCaille Restaurant and was named Chateau LaCaille. This instigated a boom in high-rise developments within the central core and a shift from suburban to downtown lifestyle in Calgary.
In 2004, Chateau LaCaille's neighbor, LaCaille Parke Place was completed. This elegant 14-storey tower features a unique design and classic LaCaille quality. At the same time, the LaCaille Parkade was built across the street and below the park offering visitors to the area more parking.
In 2005, Mr. Livaditis sold his restaurant and expanded LaCaille's focus on real estate developments. Notable developments since then include the Five West towers, completed in 2006 and 2008 respectively. Five West has forever changed the skyline of the downtown West End with these towers. They are timeless, wrapped entirely in brick, stone and glass, with stunning architectural symmetry and lighting at night. The podium, which stands 5 stories tall and boasts retail shopping, also hides a 3-story above grade parkade and storage facilities.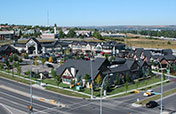 Another historic city first was completed in the spring of 2010 as residents of Solaire moved in to their striking new condos. Solaire is part of a mixed-use project build by LaCaille for the City of Calgary. It incorporates a fire hall at the base, commercial retail and an adjacent affordable housing tower designed to look like a commercial tower.
Looking ahead, LaCaille has many new and exciting projects. They include more urban condominiums and the ultra luxurious Kings on Forth lifestyle tower, plus the charming neighborhood plaza of Sage Hill Farm and the cities first "city within a city", Sky Pointe.